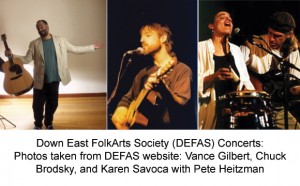 The upcoming season of the Down East FolkArts Society will be one to remember! For its twentieth season members voted on performers that were their favorites over the past two decades, and the line-up for the year is a stellar one. Vance Gilbert gets the season started with his rich voice and wicked wit. Chuck Brodsky follows with groove-oriented finger picking and sharp political commentary.  Karen Savoca and Pete Heitzman return for a third visit bringing their sinuous percussion, incredible guitar and dusky vocals. The harmonies of Gathering Time are fresh yet timeless, and Little Toby Walker returns us to the era of the old blues masters. Pat Wictor's slide guitar and "fireside chats" make you feel the artist is playing just for you at home, then the season finishes with North Carolina's own Coyote sharing the melodies of Ocracoke.
Down East FolkArts is more than just concerts – it is a group of dedicated volunteers and discriminating members who love keeping alive the tradition of live music. One of the projects supported by this group in conjunction with the NC Arts Council last year was World Music in Schools. Hundreds of fifth graders in Carteret and Craven Counties were treated to a series of visits to the classroom by artist Simon Spalding and his unusual instruments from far-flung countries.  If grants come through for the approaching year, the program will be welcomed back into the schools again.
Join Down East FolkArts as we launch our twentieth season, clapping to the music and enjoying the intimate venues at Trent River Coffee Company in New Bern and the upper room at Clawson's 1905 Restaurant in Beaufort!  Membership is encouraged, volunteers are welcomed, and all are invited to enjoy the live music!
Check our website at www.downeastfolkarts.org for details on activities, or call 252-633-6444 for more information.
Down East FolkArts Society: 2012 – 2013 Season
September  14 & 15 2012            Vance Gilbert
October 19 & 20 2012                  Chuck Brodsky
November 9 & 10 2012                 Karen Savoca and Pete Heitzman
January 11 & 12 2013                  Gathering Time
February 8 & 9 2013                    Brooks Williams
March 8 & 9 2013                        Toby Walker
April 12 & 13 2013                       Pat Wictor
May 17 & 18 2013                        Coyote
All shows begin at 8:00pm.
The first date listed each month occurs at Trent River Coffee Company, 208 Craven Street, New Bern, NC.
The second date is at Clawson's Restaurant, Beaufort, NC.   Admission is $15 general, $12 members, $8 students.
Submitted by: Linda McGowen, Down East FolkArts Society