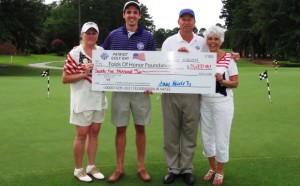 On behalf of the organizing committee of the Folds of Honor-Patriot Golf Day Tournament, we would like to thank you for your generous sponsorship. Through your valuable support, we raised $25,000 which was donated to the Folds of Honor Foundation.
The tournament held on June 28th at The Emerald Golf Club was a huge success, and in no small measure, due to your generosity. The weather held out, the course was in tip-top shape, and the players came in droves.
The Folds of Honor Foundation is rallying a nation to ensure no family is left behind in the fight to preserve American freedom. Through scholarships and other assistance, we give back to the spouses and children of soldiers killed or disabled in service to our country. We provide healing, hope and an opportunity for dreams to be realized…with the support of people like you. We feel this is our duty as citizens of the greatest country in the world.
Thank you for helping ensure that no family is left behind on the field of battle, making sure that we honor their sacrifice and educate their legacy. Thank you for your support and patriotism.
Sincerely,
Folds of Honor Tournament Committee at The Emerald Golf Club
Jerry Briele
John Cole
Ken Houser
Thea Kincaid
Kathy Petrichko
Sonny Roberts
Submitted by: Kathy Petrichko