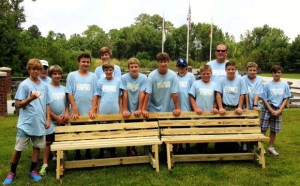 Six New Benches Added New Bern's Civil War Battlefield Park
Thirteen students from the Epiphany School of Global Studies visited the New Bern Battlefield Park on Thursday, August 21 for a combination of learning and community service. Accompanied by teacher Jon Fitzgerald, the students spent the early morning learning about battlefield communications with a drum demonstration by guide Rolf Maris, followed by a presentation on period weaponry by guide Pete Meyer. Pete then proceeded to take the students on a walking tour of the battlefield, pointing out key terrain features and Confederate earthworks that played a role in the battle's outcome.
The students then formed into teams to begin assembling 6 wooden park benches. Led by Pete Meyer, the students followed his instructions as they put together the bench pieces that had been previously cut and marked. By lunch the students created six sturdy, good looking benches that will be enjoyed by future visitors to the park.
The relationship between Epiphany and the New Bern Historical Society continues to benefit both institutions. The students gain knowledge of local history, experience working with tools, and learn the value of providing meaningful community service. The society in turn benefits with assistance in the labor required to build needed park assets and in fulfilling its mission of furthering public education of New Bern's history.
The New Bern Battlefield Park is located about five miles south of New Bern, just off Highway 70 East at the entry point to the Taberna development. This unique portion of the Civil War Battle of New Bern site is preserved in its original, natural state.
The battlefield is open to the public and features a self-guided tour through the area on carefully placed paths developed by the guides.  Visitors are able to visit six of ten well-preserved earthen redans. The battlefield's approximately 31 acres are a federally-designated site of historical significance. Tours conducted by the guides are available by contacting the New Bern Historical Society at 252-638-8558.  School groups and other organizations are welcome.
Submitted by: Kathy Morrison, New Bern Historical Society