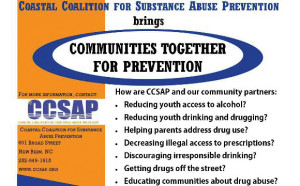 In recognition of the wide geographic area that Coastal Coalition for Substance Abuse Prevention's ("CCSAP") serves, we have decided to host our annual celebration in two locations. Please join us as we celebrate being awarded the Drug Free Communities Grant for the third year. This award recognizes the hard work CCSAP and our partners have done and continue to do.
Our goals are to reduce access, raise awareness about appropriate use, and educate our community regarding the harms from and resources available for alcohol and prescription drug abuse. We will be showcasing all the activities we and our partners have worked on to prevent drug abuse during the past year.
Our two annual receptions will be held September 23rd from 5:00pm to 7:00pm at the Ball Center at Camp Lejeune in Jacksonville and at the Bridgepointe Hotel and Marina in New Bern from 5:30pm to 7:30pm. There will be a welcome and special recognitions at each site at 6:00pm.
Refreshments will be provided. Please drop in to see what we've been doing in your community. Feel free to bring a guest. If you have any questions, don't hesitate to call 252-649-1615.
Submitted by: Shirin Scotten, Media Coordinator, Coastal Coalition for Substance Abuse Prevention