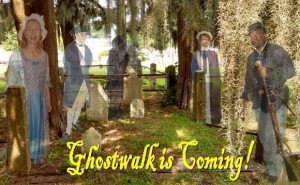 Coming October 23-25, 2014
New Bern Historical Society presents Hauntings with Attitude, its 24th annual Ghostwalk. How often in history has attitude made the difference! New Bern's past is filled with ghostly attitude, so as night falls in New Bern's Historic District October 23-25, be on the lookout for ghosts with lots of attitude.
Meet spirits at 17 different ghost haunts including homes, churches and businesses, and meet ghostly actors who will share spirited stories in the very locations that their characters lived and visited. Enter the Jesse Claypool House and meet Frances Claypoole Royster, wife of Vermont Royster, Senior Editor of the "Wall Street Journal" from 1958 to 1971. Meet Miss Margaret Tyson who, in 1791 at age 30, finally found love, then…TRAGEDY.   Hear distinguished 19th Century clergyman and educator Bishop J. W. Hood at St. Peter's AME Zion Church where he was the first pastor, then visit King Solomon's Lodge #1, the first African American Masonic Lodge in North Carolina. Learn about the much loved and past organist Mrs. J.A. Meadows at Centenary Methodist Church Chapel.  Then step back into the present to hear acclaimed current organist and Director of Music Ministries, Paul Saik.
During Ghostwalk, New Bern's ghosts have an opportunity to return to their old haunts and tell their tales to the living. Sites expecting hauntings include:  Cedar Grove Cemetery; Athens and Masonic Theatres; historic district homes, churches, and Tryon Palace historical sites. A complete listing of ghost sites can be found at www.NewBernHistorical.org in September.
The Mystery Mansion continues this year at Agony Alley with a light hearted mystery in the Attmore-Oliver House. Poor Mr. Dowd of the Veri-Good Bakery copes with his family at the turn of the last century. And the Veri-Good Bakery itself will appear with plenty of delicious goodies.
As always candlelit Cedar Grove Cemetery will provide plenty of eerie entertainment! If you dare pass under the weeping gates you will meet the cemetery's famous grave diggers who will try to convince you to stay… forever. If you get past them, be on the lookout for the many ghostly characters whose lives shaped our city as they appear and disappear before your eyes.
New Bern's two historic theatres will open their doors again as well. The Athens will present Ghostwalk: La Cage Aux Folles while the popular Thriller! returns to the Masonic Theatre!
In First Baptist Church's gothic revival sanctuary, hear Daynette Snead and her Gospel Jazz Ensemble, dedicated to sharing the joy of traditional and contemporary hymns, bring you Spirited Songs Infused with Soulful and Syncopated Rhythms of Jazz.
Hauntings begin Thursday, October 23, from 6:30 p.m. to 9:30 p.m. Expect ghost sightings at the cemetery and entertainment at both theatres and Agony Alley.  An additional thirteen (13) ghost sites are open Friday, October 24 and Saturday, October 25 from 5:30 p.m. to 9:30 p.m.
Ticket pricing is as follows: $15 in advance; $20 days of event; $10 active military and their dependents, and full time students with current ID; $5 children.  Tickets are available on line at www.NewBernHistorical.org beginning September 15th. Check the site for outlet information, or call 252-638-8558.
Submitted by: Kathy Morrison, New Bern Historical Society