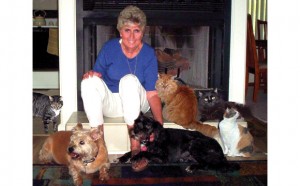 Are you an active, healthy, financially secure person with time on your hands and love in your heart? Has your adult children moved out on their own, gone off to college, married and created a new life for themselves? Do you like outdoor activities, gardening, walking on the beach, hiking in the mountains with no one to join you? Do you yearn for a companion to share your evenings – watching television, cuddling on the couch, sharing your bed and the covers? This sounds like a Match.com advertisement.  Like minded person looking for love and companionship. Well, adoption may be the answer – adoption of a companion dog or cat.
Did you know that thousands of dogs and cats, here in Craven County, are euthanized each year because there are no homes for them? What about all the wonderful potential pets waiting at the Craven/Pamlico Animal Shelter or Colonial Capital Humane Society or Boston Terrier Rescue or Safe Harbour Farms or Great Dane Rescue or any of the other animal rescue groups. Just hoping that someone will open up their hearts and take them home. Would you consider an already housebroken, leash and crate trained dog that knows basic obedience and agility. Perhaps a prison dog from the New Leash on Life program would fit the bill. There are many options for adoption. We just hope that you will adopt and not purchase a dog or cat. These critters will be so grateful.
Consider an adult dog or cat – These loving animals are past their puppyhood and have outgrown all the problems that go along with it. Most are housebroken, no longer chew, are more laid back but still full of energy. Can walk for miles, swim and boat and love to go on adventures in your RV. They can more than keep up with you in all your activities.
Consider your housing – If you live in an apartment or condo, are pets allowed? Is there a size restriction? Does your house have a fenced in yard where the pet can play ball and run around and be safe when it needs to go out to potty.  Remember, you might not want to go for a walk in the rain before going to bed, and being able to let the dog out into a safely enclosed yard is a real asset.
Energy level – How active are you? Remember, dogs need exercise.  Even laid back couch potato dogs need to go for a daily walk – and I don't mean to the mailbox and back but a mile or two. Many love going to the dog park and playing with other dogs. If your energy level is low but your heart is empty, you might consider a cat that is less active and will be happy to nap with you.
What do you do when you travel? Small dogs and cats can travel with you. They can even go with you on an airplane. If that does not work for you, there are great boarding kennels in our area that will treat your best friend as royalty. If you are just going for a short time, perhaps a neighbor would come over and take care of your dog or cat or even take them to their home. There are wonderful, reputable dog walkers that can come daily or a couple of times a day to walk your dog. Be sure to check them out first.  Visit the kennel to ease your mind. Check references. Talk to other people that have used them. Then travel with peace of mind knowing that your friend will be waiting for you when you get home.
Lifetime care plan – As hard as it is to think about death or not being able to stay in your home and take care of yourself, every pet owner should have a plan for what should happen with their pet if he or she dies first. Would adult children take the dog or cat?  Be sure, sometimes they quickly say they will but when the time comes, they really do not want the burden of an added responsibility. Then what? These are things that should be thought about while you are healthy and active and made a part of your Will and Estate Planning.
There is really no excuse not to adopt a loving pet. They fill your life with love, activity, laughter and companionship. I don't know what I would do without my wonderful four-legged friends (and one three-legged). They are loyal, happy and very mischievous.   Three of my guys are seniors and one is a very active New Leash on Life dog that is still into everything.  He makes me laugh every day.
Consider filling that empty space in your heart and life with a loving dog and cat. You will be glad that you did.
Submitted by: Bonnie Compton, Pals for Paws