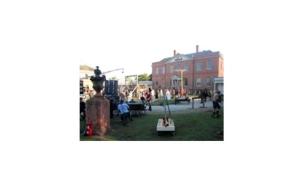 Film production will affect Palace grounds, surrounding city streets, Jan. 18-21
The FOX TV series "Sleepy Hollow" will be filming on location at Tryon Palace this Tuesday, Jan. 20. This visit marks the third time that "Sleepy Hollow" has used the Tryon Palace grounds as a filming location.
"Ever since the first season wrapped, we've been keeping our fingers crossed that 'Sleepy Hollow' would want to use Tryon Palace again during Season Two," said LeRae Umfleet, interim assistant director for Tryon Palace. "They are a tremendous group of people to work with and they bring a level of excitement to the site that's truly contagious."
Crews are expected to arrive at Tryon Palace on Sunday, Jan. 18, and remain in the city through Jan. 21. The Stanly and Dixon houses will be closed for filming, but visitors will still be able to purchase discounted tickets that include tours of the Palace and gardens, as well as access to the North Carolina History Center. Although tours of the Governor's Palace will still be available, access to the Palace courtyard and Stable will be limited during filming.
Beginning today, Jan. 16, tickets will be available at the North Carolina History Center at a rate of $15 for adults and $6 for youth. That rate will remain in effect until the Stanly House reopens on Thursday, Jan. 22.
Beginning Monday, Jan. 19, the New Bern Police Department will direct traffic through detour routes that surround Tryon Palace. Residents and visitors should expect intermittent traffic control on George, Eden and Pollock streets through Wednesday, Jan. 21.
For more information about ticketing and tours at Tryon Palace during the filming of "Sleepy Hollow," call 252-639-3500 or visit www.tryonpalace.org.
Submitted by, Craig Ramey, Marketing and Communications, Manager, Tryon Palace