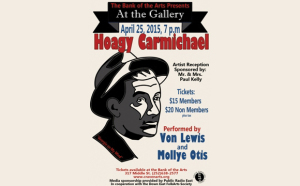 Child Abuse Prevention Opening Ceremony. April 1st at 8:30 am Located at the Bank of the Arts. Guest speaker-Roman Rys, ECU Student & former foster child  "Strong Communities Raise Strong Children".
At the Gallery: Hoagy Carmichael. Hoagy Carmichael was one of the most talented, inventive, sophisticated and jazz-oriented of the writers composing pop songs in the first half of the 20th century. Not only was he a composer, but also pianist, singer, actor, and bandleader, best known for composing the music for "Stardust", "Georgia on My Mind", "The Nearness of You", and "Heart and Soul", four of the most-recorded American songs of all time. Join us At the Gallery on April 25th as Von Lewis and Mollye Otis perform all the great standards from Hoagy Carmichael's repertoire!
Presented by Von Lewis and Mollye Otis, April 25 at 7 p.m. at the Bank of the Arts.  $15 for members of the Craven Arts Council, $20 for nonmembers. Tickets available at the Craven Arts Council's Bank of the Arts, 317 Middle St., 252-638-2577 and online at www.cravenarts.org.
Craven Community College Student Art Show. In the main gallery of the Bank of the Arts, Free Admission.  The 2015 Craven Community College Student Show will be the first display of student artworks shown since the college completed its Art Expansion in early September," says Elizabeth Spencer. The Art Expansion included a spacious outdoor patio, a kiln room and doubling the square footage of the sculpture and ceramics studios. "Students now have the ability to create large-scale sculptures and incorporate ceramic and sculptural techniques that were not possible indoors," she says. "Expect to see a wider variety of works, techniques and scale from more than 30 students who will be part of the show. "
Jay Manning. Back Gallery featured artist for April. After 40 years of commercial illustration (and sculpture for collectibles and awards), native Californian Jay Manning, our April Back Gallery featured artist, is redirecting his skills to focus on fine art – the beauty of the human form in sculpture and the personal experience and inter­pretation generated by abstracts. His first full-time gig was in the early 1980s at KNBC Los Angeles, where he painted graphics for news stories – "about 1,500 in all, on every subject you've ever heard on the news," he says. He won three Gold Broadcast Design Excellence Awards. "To my surprise, not real gold." His next career move was to DIC Animation development department, designing props, characters, and backgrounds for new shows. Also during this time, he was adjunct faculty at UCI and Irvine Valley College, teaching painting techniques. CAC&G is proud to feature this now-New Bernian in our gallery. Want to know how he landed in New Bern? You'll have to wait and ask!
New Bern Photo Walk Mini-Exhibit. Photos taken during the 11th World Wide Instameet – East North Carolina, will be on display at the Bank of the Arts in April.
ArtWalk. Friday, April 10 5-8 p.m.  Come to downtown New Bern to participate in the festivities at the local ArtWalk businesses.  Downtown art galleries and restaurants stay open for extended hours and sponsor special events.
For more information visit the Craven Arts Council at the Bank of the Arts, 317 Middle St., call 252-638-2577 or check out their website.