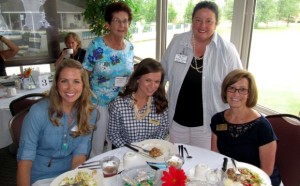 Horsing Around: Coastal Women's Forum Annual Hat Social and Buffet Dinner Meeting will be held on Tuesday, June 2 at the Emerald Golf Club. Cocktails and networking will begin at 5:00 PM, followed by dinner, allowing plenty of time to enjoy the creativity of all the hat-wearing participants.
All attendees are invited to participate, and prizes will be given for Hats in the following categories:
Triple Crown – A hat decorated with Red Roses, Black Eyed Susans, and White Carnations.
Belmont Beauty – A stunning bonnet that makes you wish it was yours
Horse Feathers – Something absolutely silly
Secretariat – Homage to the woman behind the keyboard
Get the Message? – An interpretation of a horse or horse head (…Remember The Godfather?)
President's Cup – The hat and the silks (outfit) match perfectly
This event is free for members and $23 for guests. Reservations must be made by Friday, May 29.
Contact Karen Monroe, Dinner Coordinator, at 757-343-4312.
To register online, or to learn more about what Coastal Women's Forum has to offer, visit CoastalWomensForum.com for more information."
By Contributing Writer: Penny Zibula, Freelance Writer, Editor and Travel Blogger, http://twowritehands.com