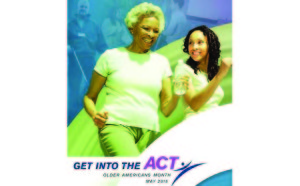 Older adults are a vital part of our society. Since 1963, communities across the country have shown their gratitude by celebrating Older Americans Month each May. The theme of this year's celebration is "Get into the Act," to focus on how older adults are taking charge of their health, getting engaged in their communities, and making a positive impact in the lives of others.
The theme also reflects on the 50th anniversary of the Older Americans Act. President Lyndon B. Johnson signed the Older Americans Act into law in July 1965. Since that time, the Act has provided a nationwide aging services network and funding that helps older adults live with dignity in the communities of their choice for as long as possible. These services include home-delivered and congregate meals, caregiver support, community-based assistance, preventive health services, elder abuse prevention, and much more.
By promoting and engaging in activity, wellness, and inclusivity, more Americans than ever before can "Get into the Act." Eastern Carolina Council Area Agency on Aging (ECCAAA) provides advocacy, planning, program management and development, and supports a comprehensive system of quality services designed to attain and preserve quality of life, health, and independence of older adults, individuals with disabilities, and caregivers within their community of choice. Older Americans Month offers an opportunity to emphasize how older adults can access the home and community-based services they need to live independently in their communities. It is also an occasion to highlight how older adults are engaging with and making a difference in those communities. Contact your local senior center or ECCAAA for details about Older Americans Month events in your county.
ECCAAA is part of a national network of organizations established to respond to the needs of older adults. ECCAAA plans, coordinates, and develops services for adults aged 60 or better, family caregivers of older adults and older adults living in long term care facilities according to mandates in the Older Americans Act. We serve nine counties: Carteret, Craven, Duplin, Greene, Jones, Lenoir, Onslow, Pamlico, and Wayne.
Submitted by: Jillian Hardin, MPA, CIRS-A, Human Services Planner, Eastern Carolina Council Area Agency on Aging