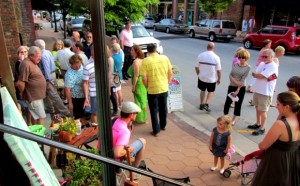 Community Artist Will presents ArtCrawl on June 12th from 5 – 8pm. Enjoy a nice evening in our beautiful downtown meeting local artists and craftspeople who will feature their works at different venues.
Trent River Realty at 333 Middle Street will be featuring the watercolor batiks of DiAnne McEwen, the oil paintings of Susan Sirkin, the acrylics and watercolor paintings of Brenda Grear, and the upscale fashion jewelry of Alice Bilello. Refreshments will be provided to guests.
The Black Cat Shoppe, 246 Middle Street, will have fine art painter Katherine Wiggs demonstrating and showing her works. Wiggs specializes in realistic scenes and portraits.
Stardust Gallery, 244 Middle Street, will host a meet and greet with local author Devyn Dawson. There will be complimentary wine and new works from over 25 artists.
A Hopeful Balance yoga studio, 244 ½ Middle Street, will feature several local artists and an open studio yoga demonstration accompanied by a local guitarist.
Midtown Olive Oil, 215 Middle Street, will feature the fine art paintings of locals artists Toni Taglieri and Becky Coleman.
Bear Town Market's Beer Garden will feature the live music of This X That from Chapel Hill, NC. This band is self describes as a fusion of jazz, pop, and indie music with covers ranging from the White Stripes to Brittany Spears.
Make your way through Bear Plaza where Kaitlyn Lewis presents the Aspara Dance Troupe. Aspara students study American Cabaret, Tribal fusion, and Bollywood. They will begin their performance at 7pm.
Fine Art at Baxter's, 323 Pollock Street, will feature the works of Catherine Thornton.
The Greater Good Gallery inside the Isaac Taylor House, 228 Craven, will be holding painting demonstrations by local talents Lee Hood and Carol Jones.
Make your way into the gardens behind the Isaac Taylor House. The Gardens will have many artists on hand for this event. Wine and beer will also be available for purchase. Artists include Lisa Bisbee-Lentz who will be demonstrating her painting skills. Nancy Zachewicz will be demonstrating her glass and ceramic painting techniques as well as be selling her hand painted lighted wine bottles. Nancy's grandson, Reece Zachewicz will be selling his painted lady bug rocks. Curtis Blake will be showing his photographs and note cards. Devon Beckett, local hoop dancers, will be performing single, double, and LED lit hoop dances for guests. Arden Lindsey will have paintings, matted prints and watercolors. Karen Dodd of the Quilting Mandarin will have her wonderful quilted creations on hand.
Studio 413, 413 Broad Street between The Chelsea and Fireman's Museum, will be open to the public to view Ed Macomber working on the second painting in his series, Middle Street History. The first of this series titles Middle Street, 1958 will also be on display.
CAW Center for the Arts, 415 Broad Street, will be open to public. Come in and peruse the many local artist works in their cooperative gallery space as well as meet many of the artists who hold studio spaces. Chris Wagner will have his acrylic work in his studio on display and Meg Wethington, local poet, will be in the literature office to inform guests of the many writing opportunities available to the general public. Sandy Bruno will be demonstrating Plein Air painting just out of the back door of the Center for the Arts which opens into Artisan Square.
Bear Town Java, 323 Middle Street, will host Lyrical Ja and the Nexus Poets open mic night starting at 6pm.
The Red Shoe Studio Gallery, just through the back hallway of Bear Town Java, will feature "the Blooming Art" of Carl Hultman for ArtCrawl on June12th. An artist's reception will be from 5 – 8pm.
Submitted by: Meg Wethington, Community Artist Will