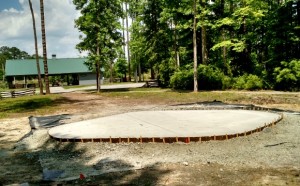 Gateway Plaza with Interpretive Signage
It may not look like much now, but big changes underway at the New Bern Battlefield Park. The cement pad in the foreground will be a full color map of the battlefield that will help visitors understand what happened there during the Battle of New Bern in 1862.  The map will be surrounded by a gateway plaza with seating and interpretive signs explaining how the battle unfolded and what occurred during the battle.
In the background of the photo you can see the Richard and Linda Lore Visitor Center.  Eight interpretive panels will be added there to tell the story of the aftermath of the battle and its social implications.
Through the summer these elements will be added. Be sure to drop by and watch the progress.
The New Bern Battlefield Park is located about five miles south of New Bern, just off Highway 70 East at the entry point to the Taberna subdivision. This unique portion of the Civil War Battle of New Bern site is preserved in its original, natural state. It is also on the National Register of Historic Places.
The battlefield is open to the public and features a self-guided tour through the area on carefully placed paths developed by the guides. Visitors are able to visit six of ten well-preserved earthen redans. The battlefield's approximately 31 acres are a federally-designated site of historical significance. Tours conducted by the guides are available by contacting the New Bern Historical Society at 252-638-8558. School groups and other organizations are welcome.
Submitted by: Lynne Harakal, Executive Director, New Bern Historical Society