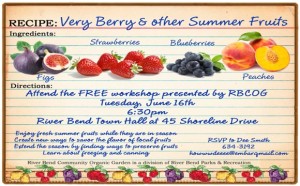 The River Bend Community Organic Garden is pleased to present Very Berry and Other Summer Fruits, a free workshop for anyone interested in preparing and preserving the delectable summer fruits that grow in this area.
This is a great region for growing all types of berries and other fruits. Master Gardeners Jane Snider and Ellen Serra will present new ways to savor the flavors of summer fruits with ideas for serving and preserving berries and more. Their menu for the workshop includes baked goods, appetizers and spreads; balsamic vinegar, jams and jellies, savory dishes and salsas and, of course, freezing and canning. Jane and Ellen will offer some tried and true tricks for making jams and jellies from blueberries, figs and peaches.
At the conclusion of the session, attendees will be invited to sample many of the fruits discussed in the workshop.
Very Berry will be offered on Tuesday, June 16th at 6:30pm at River Bend Town Hall. RSVP preferred. Contact Dee Smith at 252-634-3192.
Submitted by: Connie Casey, River Bend Community Organic Garden