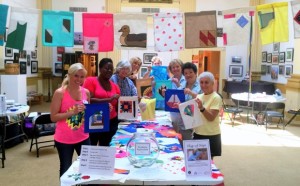 On Saturday, July 18th, at 10 AM, there will be a flag sewing bee at the Bank of the Arts building at 317 Middle Street in New Bern.  The Craven Arts Council along with the Coastal Women's Shelter and the Twin Rivers Quilters Guild are putting on a live demonstration of sewing and quilting.  The quilters will be exhibiting their skills as they create flags for the community-wide Flags of Hope project.
Flags of Hope is a project that is in support of the arts as well as victims of domestic violence.  Volunteers design and create 10" x 12" flags that they donate to the project.  Patrons sponsor a flag for $10 and provide a message of inspiration to be written on the flag.  They can share their sponsored flag on social media with the hashtag #FlagsofHope to spread awareness.  The flags are collected and will be exhibited in a large-scale installation art piece in New Bern in October, Domestic Violence Awareness Month.
Anyone looking to become more involved with the project at any stage can go to http://www.cravenarts.org/flags-of-hope.html or call Beth Ellis from the Craven Arts Council at (252) 638-2577.
More Info About the Community Partners:
With the celebration of its 30th year, CWS has its own hope that the local community will truly be impacted by this fundraiser.  Fund Development Coordinator for CWS, Carey Ashcroft, expressed that the display of flags will be a symbol for something much more than a beautiful piece of art work: these flags symbolize why the organization opens its doors day-to-day. Funds that CWS receives will be used to help victims establish their new homes free from violence in Craven, Jones, and Pamlico counties.
Craven Arts Council and Gallery has worked for 41 years for the betterment of the community through the arts.  Funds that the Craven Arts Council receives from Flags of Hope will be used towards establishing a working art facility in our community that will teach the fundamentals of art and how it not only enriches our lives, but also provides income to our local creative economy.
Mary Ann DeRossett of the Twin Rivers Quilters Guild is volunteering her time for this project to assist with workshops in the community. She has expressed that if any churches, sewing clubs, or other organizations would like her to assist in hosting a Flags of Hope workshop, to contact the CAC&G at 252-638-2577.
Submitted by: Beth Ellis, Craven Arts Council and Gallery