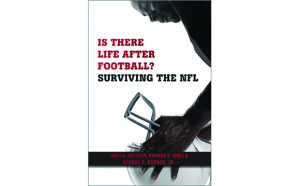 Beer Army Burger Company – Friday, July 10th
Former NFL player and Craven County native George Koonce will be at Beer Army Burger Company for a brief presentation and book signing of his book, "IS THERE LIFE AFTER FOOTBALL? SURVIVING THE NFL" located at 313 Pollock Street in Historic Downtown New Bern.  The presentation will begin at 3:30pm on Friday July 10th and will be followed by a book signing.
The book draws upon the experiences of hundreds of former NFL players as they describe their lives after their football days are over.  It also incorporates stories about their playing careers, even before entering the NFL, to provide context for understanding their current situations.  Dr. Koonce weaves in his own story throughout the book, explaining the challenges and setbacks he encountered and decisions that helped him succeed as an NFL director of player development, PhD student, and university administrator after leaving the sport.  A fascinating study with unprecedented insider access, this book is essential reading for anyone interested in the world of professional football.
George Koonce played professional football for a decade, the majority of those years with the Green Bay Packers, with whom he won Super Bowl XXXI.  After the NFL he held positions as Senior Associate Athletic Director and Director of Development at Marquette University, Athletic Director at the University of Wisconsin-Milwaukee, Director of Player Development for the Green Bay Packers, and Special Assistant to the Athletic Director at East Carolina University.  Dr. Koonce is currently Vice President of Advancement at Marian University.
Beer Army Burger Company located in the historic 1850's North Carolina Bank Building at 313 Pollock Street.  Featuring the largest selection of beer in New Bern including 16 Craft beers on tap and a selection of fresh hand patted burgers, brats and appetizers.
For more information, Call Thea of Theas Ideas at 252-636-2628
Submitted by: Sabrina Bengel, Bengel Hospitality