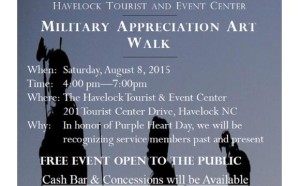 Join us August 8, 2015 for the first annual Military Appreciation Art Walk from 4pm-7pm at Havelock Tourist & Event Center, located at 201 Tourist Center Drive, in Havelock. The self-guided Art Walk will feature numerous styles of artwork and pieces to view, ranging from photography to jewelry to spray paint designs. This event is in cooperation with the City of Havelock, The Havelock Tourist & Event Center and the Purple Heart Association.
This is a free event and open to the public. Light refreshments and a cash bar will be available.
In addition to viewing the art, there will be a silent auction taking place. A portion of the proceeds will go to the local chapter of the Purple Heart Association. Enjoy the ambiance of a world-class aviation exhibit, while appreciating artwork meant to honor service members past and present.
"Thank you again for the opportunity to help out, it is a huge honor."–Local Artist, Brian Cardoza
If you would like more information about this event or you are an artist who would like to participate, please contact Sara Neilson at 252-444-4348.
Submitted by: Sara Neilson, Havelock Tourist & Event Center