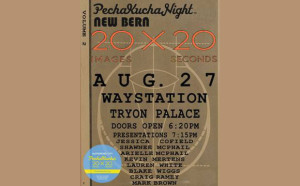 Presentations begin at 7:20 p.m., Aug. 27 in Waystation Auditorium
The creative exchange of ideas known as PechaKucha Night will return to New Bern for a second time on Aug. 27, at Tryon Palace's Waystation Auditorium. The free program includes eight presenters who will discuss topics and ideas in a compressed 20 x 20 format that limits their ideas to 20 images showing for 20 seconds each.
PechaKucha Night, New Bern: Volume 2 is an informal, fun, creative, real social networking event for the community that invites speakers to discuss stories, happenings, ideas, opinions and thoughts with a digital edge. PechaKucha, which is a Japanese word that translates into chit chat or blah blah blah, was created by architect Klein Dytham in Tokyo in 2003 as an opportunity for young designers to meet and show their work in public. It has since gone viral, and turned into a massive celebration with events happening in more than 800 cities around the world.
Presenters for the next New Bern event include Kevin Mertens, Jessica Cofield, Craig Ramey, Lauren White, Beth Fairchild, Blake Wiggs, and Shawnee and Arielle Mcphail.
Doors open at 6:20 p.m. and presentations start at 7:20 p.m. in the Waystation Auditorium, located on the corner of George and Pollock streets.
For more information email or visit their Facebook page.
Submitted by:Craig Ramey, Marketing and Communications, Manager, Tryon Palace
Phone: (252) 639-3511