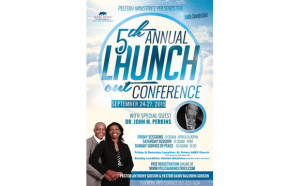 Thursday, September 24, 2015
9:00am – 4:00pm
Location: Peletah Ministries -2305 Neuse Blvd. New Bern
This will be a day long learning opportunity for churches and non-profit organizations.
There will be focus on
– developing grant schedules
– grant writing
– asset building
– program development
– neighborhood mapping
– partnership creation
Churches/organizations will be developing a program action plan that will set your course for beginning the process of gaining resources for activities at your church/organization.
This will be an intense yet constructive day for leaders who want to move their organization forward with funding that is necessary to maintain and sustain needed community programs.
The Pre-Conference is $49.00
Anthony and Dawn have secured nearly half a million dollars in grant funding. Anthony holds the MS in Administration with a concentration in Human Services while Dawn holds the MA in English with a concentration in Technical and Professional Communications.
To register call 252-675-3591 or register online at Event Brite.com Remember – The 5th Annual Launch Out Conference is FREE!
There will be grant funders from across the state, community facilitators, and program developers. This is a great opportunity to network and learn more about programs to assist and support non-profit and faith based organizations.
This is a joint partnership with Peletah Ministries, the City of New Bern, the Interdenominational Ministerial Alliance and Faith Connections.
Submitted by: Dawn Baldwin Gibson