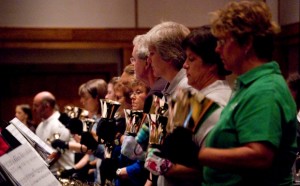 Music aficionados in and around New Bern will have the opportunity to experience the unique sights and sounds of the English handbell as many of the finest handbell musicians from around the country gather for Distinctly Bronze East, the Handbell Musicians of America's premier performance event for advanced handbell musicians. For four days, October 8-11, the musicians will rehearse under the baton of conductor Beth Judd at the New Bern Riverfront Convention Center, where they will then present a public concert Sunday, October 11 at 4:00 p.m.
Founded in 1999, Distinctly Bronze has delighted audiences on the east coast every fall on the east coast and, since 2009, late winter on the west coast. The event has been coming to the New Bern Riverfront Convention Center since 2005.  The musicians will ring in mass on six sets of English handbells and handchimes in a program that includes a diverse repertoire of musical styles and genres from classical to jazz to contemporary.
The late David Davidson, a nationally recognized church music, choral, and handbell clinician, helped to start the event to provide a unique opportunity for highly accomplished handbell musicians to ring advanced literature. Ringers must demonstrate a high level of proficiency in the art in order to participate in Distinctly Bronze, and for four days they work from morning until night, perfecting the music for their public performance.
The closing concert promises to be a spectacular visual display of musicianship and skill. Admission for the concert is $5.00 and will be collected at the door.
About Beth Judd
Beth Judd has enjoyed an extensive career in music and arts ministry for over 40 years, having conducted children, youth, and adult vocal and handbell ensembles. She has served as a conductor and clinician for countless seminars, festivals, workshops, and denominational worship and music conferences for Handbell Musicians of America and other music and ministry organizations. In 2004 she was one of the conductors representing the United States at the International Handbell Symposium in Toronto, Canada. She is also a published handbell composer and author.
About The Handbell Musicians Of America
Handbell Musicians of America is the national organization devoted to uniting people through the musical art of handbell and handchime ringing. As the principal voice for this medium the Guild envisions a community in which handbell musicians of every skill level realize their full potential through mentorship, education, and events. They endeavor to unite with others to create a world in which the art form is musically respected and has universal appeal.
Established in 1954, the American Guild of English Handbell Ringers grew out of the previously established New England Guild of English Handbell Ringers. In 2010, AGEHR became Handbell Musicians of America. Its primary objectives are to educate, promote the exchange of ideas relating to handbell and handchime ringing, and sponsor educational activities. The Guild's membership of approximately 7,000 includes mostly directors of handbell or handchime choirs.
For more information about Handbell Musicians of America and its mission, please visit HandBellMusicians.org.
Submitted by: Jennifer Cauhorn