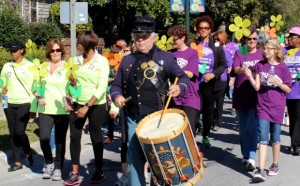 The 3rd Annual Walk to End Alzheimer's will be held October 24th in Downtown New Bern. Teams of walkers are needed to register now to be part of the world's largest event to raise awareness and funds for Alzheimer's care, support and research.  Last year, over 300 area residents of all ages joined together to walk and raise $38,340 to help bring an end to the nation's sixth leading cause of death. Nationwide, more than 450,000 came together in 600 communities to reclaim the future for millions touched by Alzheimer's. To register a team or join any of the teams listed, go to www.alz.org, click on New Bern Walk, and then click on "register".
Jan Manning, Chair of the New Bern Walk, said "Everyone is connected to Alzheimer's disease somehow or will be in the future.  This is a cause we all need to get behind. Help us make this walk a success by signing up today".  The event begins with registration at 10 AM at the Galley Store on E. Front St.  At 11 AM, the Walk, lead by drummer Glenn Druhot, proceeds to S. Front, turning on to Middle St to Broad, then back to the Galley Store for a special ceremony. Sponsors will have displays and there will be several drawings for prizes all during the event.  Refreshments are available from the Galley Store and the Doubletree by Hilton. Musical entertainment will be provided by Tom & Dahlin'. Colorful artificial flowers are given to each walker.  After the walk, all the flowers are planted in the memory garden.  Several walkers will share their stories about living with and caring for a loved one with the disease.
Sign up today as a team captain, form a team and enjoy the festival on a beautiful Carolina morning along the banks of the Neuse with many of your neighbors. For additional information or questions on signing up, contact Jan Manning or call 252-638-5588.
Submitted by: Jan Manning