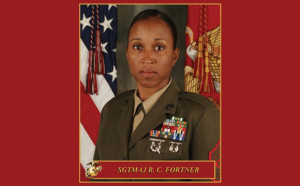 Listen to Bee Mayo, Co-Chair, Salute to Women of the Military interview with Laura Johnson on New Bern News Talk Radio Station WNOS or here:

Sergeant Major Fortner was born in Brooklyn, New York.  In August of 1990, she enlisted into the United States Marine Corps and attended recruit training at Marine Corps Recruit Depot Parris Island, S.C., where she was meritoriously promoted to private first class.  Private First Class Fortner was transferred to Camp Lejeune, N.C., to attend the Basic Supply School and obtain the MOS 3051.  Private First Class Fortner graduated at the top of her class and was meritoriously promoted to the rank of Lance Corporal in January 1991. After completion of school, Lance Corporal Fortner's first assignment was 2d Supply Battalion, 2d Force Service Support Group, Camp Lejeune, N.C.
During her tour, Lance Corporal Fortner was meritoriously promoted to the rank of corporal in June 1992 and later transferred to Marine Air Traffic Control Squadron 18, 1st Marine Aircraft Wing in Okinawa, Japan. While serving as the Warehouse Chief, Corporal Fortner began cross training into the Supply Administration MOS 3043 and was meritoriously promoted to the rank of Sergeant in February 1994.
In June 1994, Sergeant Fortner was transferred to Marine Air Control Squadron 6, 2d Marine Aircraft Wing, Cherry Point, N.C., serving in various billets to include Supply Chief, Color Sergeant, and Armorer.  She was promoted to the rank of staff sergeant in March 1998.
In June 1999, Staff Sergeant Fortner reported to Weapons Field Training Battalion, MCRD Parris Island, S. C. to serve as a Primary Marksmanship Instructor.  After graduating number one in PMI School, She trained both male and female recruits in the basic fundamentals of marksmanship before reporting to Drill Instructor School in April 2001.
Staff Sergeant Fortner graduated as Honor Graduate of Drill Instructor School, and assigned to Co. O, 4th Recruit Training Battalion. In September 2002, Staff Sergeant Fortner was promoted to the rank of gunnery sergeant and also served as Company First Sergeant.
In 2004, Gunnery Sergeant Fortner transferred to Okinawa, Japan and was assigned to G-4, 3d Marine Logistics Group as the Supply Chief.  Additionally she served as the lead Supply Analyst and Drill Analyst for the Commanding General's Inspection Program.  During this tour, she deployed several times, in addition to serving with Joint Task Force 536 to Colombo, Sri Lanka in January 2005.  Gunnery Sergeant Fortner attained the rank of first sergeant and reported to Headquarters Company, III Marine Expeditionary Force on Camp Hansen, Okinawa in May 2006.
First Sergeant Fortner was later transferred to 9th Communication Battalion, I MEF Headquarters Group, Camp Pendleton, CA in July of 2007.  She deployed to Camp Fallujah, Iraq in support of Operation Iraqi Freedom in 2008 and to Afghanistan in support of Operation Enduring Freedom in 2010.
In April 2011 Sergeant Major Fortner assumed the duties as the Battalion Sergeant Major of 4TH RTBN, Parris Island SC. Sergeant Major Fortner took an active role in preserving the legacy of female Marines through two monumental ceremonies celebrating 70 years of Women Marines.  In August 2013 Sergeant Major Fortner received orders to 2D Law Enforcement Battalion, Camp Lejeune, N.C.  June 2014 Sergeant Major Fortner received orders to the Ground Combat Element Integrated Task Force where she is currently serving.
Sergeant Major Fortner's personal awards include the Navy and Marine Corps Commendation Medal (3rd Award), Joint Service Achievement Medal, Navy and Marine Corps Achievement Medal (3rd Award) and various campaign and unit awards.  Sergeant Major Fortner is the recipient of the 2012 Megan McClung Leadership Award. She has a Bachelor of Arts in Intelligence Studies and currently pursuing a Masters of Arts degree in Leadership and Management.
Submitted by: Reeshema Walker, Disabled Veterans' Outreach Program Specialist, NC Works Career Center – Craven County