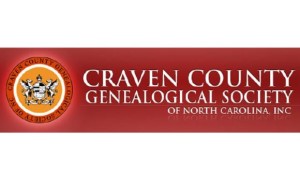 New Bern-Craven County Public Library Display for Family History Month
October is Family History Month and the Craven County Genealogical Society's members created a display honoring "Our Veteran Ancestors" at the New Bern-Craven County Public Library. It covers the Tuscarora War which ended in 1715, the American Revolution, Civil War (North and South), World War I and II, and other conflicts and battles including the present day engagements in which our Veterans are serving. The three display cases in the library lobby include Veteran photos, maps, documents, uniforms, and other items detailing their service to their country from many parts of the United States of America.
The Veterans' display was organized by member Ruth Powers (right) with the assistance of Nancy Perdue, president, (left) and other members of the group. Please stop by the library before the end of the month to view the completed displays to learn about the people who have given of themselves to serve their country during times of war and peace. Join us for our free November program on Tuesday, November 10, at 6:30 p.m. for refreshments followed by Greg Morris of Vanceboro at 7 p.m. who will speak about local World War II Veteran, Zebulon Tripp, Jr. (1922-1944), who made the ultimate sacrifice in defense of freedom. You are also welcome to bring an item, photograph, or story about one of your veteran family members to share with the group at the meeting.
The Society's monthly meetings are held the second Tuesday evening at the New Bern LDS Church located at 1207 Forest Drive off Trent Road. The monthly meetings are free and open to the public and membership is encouraged. The Society has a vibrant and diverse membership representing not only Craven County and North Carolina, but also many other states as well. The members are dedicated to fostering interest in the research, preservation, and sharing of family heritages. We welcome you to join us for this month's meeting. For more information, please visit CravenGenealogy.org or contact President Nancy Perdue at 252-638-3291.
You are invited to visit the New Bern LDS History Center which is free and open to the public on Tuesdays (1 p.m. to 4 p.m. and 6 p.m. to 9 p.m.), Wednesdays (6 p.m. to 9 p.m.), and Thursdays (1 p.m. to 4 p.m.). It is staffed by researchers who are happy to assist you in learning how to find your ancestors. The Center provides free on-site access to some of the most popular online genealogy research databases as well as having books relating to local area family history. More info is available at Tinyurl.com/LDSHistoryCenters.
Submitted by: David French, President, Family History Society of Eastern North Carolina