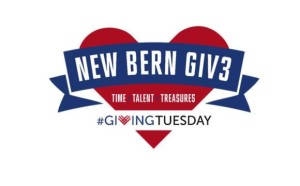 When:  Tuesday, December 1st at 10:00 a.m.
Where:  In front of the Chamber of Commerce Building, 316 South Front St.
Why:  The launching of #GivingTuesday! Join the nonprofit community, volunteers, business owners and others as we launch a day of giving through video with New Bern Now!
Who:  The Chamber Non-Profit Council, volunteers, board members of nonprofits, small business owners, friends of nonprofits, partners in Giving Tuesday, donors, individuals, etc.
Mayor Dana Outlaw will BE calling for a day of giving in our community!
Bring your nonprofit logo, Business sign, T-Shirt, etc. for the video! Leave prepared to do acts of kindness! Give Time, Talent and Treasures!
Submitted by: Tharesa Lee, New Bern Area Chamber of Commerce Non-Profit Council