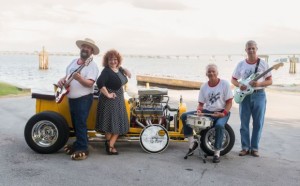 The Bears, New Bern's favorite oldies band, ring out the old year and ring in the new at Attitudes Pub and Grill in River Bend, Thursday evening December 31.  The Bears' "way back machine" will greet 2016 with all your favorite songs from years past.  This is sure to be a New Year's Eve to remember!
Who are The Bears?
– Steve Latimer is "Baby Bear", the band's youngest member. Steve sings and plays his amazingly versatile guitar.
– Janet Montero is "Mama Bear": she sings and plays bass.
– Pat Engeman, "Yogi Bear" is the drummer, as well as a singer.
– Simon Spalding is "California Bear": he plays bass, fiddle, and guitar.
Attitudes Pub and Grill is at 32 Shoreline Drive in River Bend. Starting at 6:30pm, your choice of Prime Rib Buffet or Seafood Platter Dinner. The Bears will play from 9:00 to 12:00.  Midnight Champagne Toast and Party favors included. All for only $25!  Or – Come any time after 8:30 for the music only: $10 cover after 8:30. Reservations required for dinner.
For reservations or information, call Attitudes at 252-633-2006.
For more about The Bears, check out the band at TheBears.band. For bookings, contact Pat Engeman at 678-205-7309.
Ring out the old year, ring in the new – with The Bears!
Submitted by: Simon Spalding