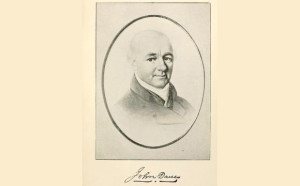 Follow this Family from the Revolutionary War
Lunch & Learn January 13, 2016 at The Chelsea
Prominent New Bernian Major John Daves came to New Bern early in his life.  He was a revolutionary war soldier, seeing action at Brandywine, Germantown, Valley Forge, Eutaw Springs and Monmouth. Following the war he served as a Major in the North Carolina state troops and held many prominent positions in New Bern including an appointment by George Washington in 1790 as "Collector for the Port of New Bern".
On January 13, 2015, the New Bern Historical Society's Lunch & Learn will present Alice J. Ruckart of the Earl of Craven chapter of The Questers who will explore the Daves family through several generations; a family deeply rooted in service to their church, birth place, community, state, and country. Their contributions and the contributions of their extended family live on and are evident today as significant factors in the development of the history of New Bern and North Carolina.
Alice Ruckart is a native of Knoxville, Tennessee but has North Carolina roots going back to the Colonial period. She was a computer programmer by profession but always had a love for history, historical research, and preservation/restoration of historical houses. She has been in New Bern for the past 24 years and during that time worked as a guide and exhibit researcher at Tryon Place Historic Sites and Gardens, and served as Earl of Craven chapter president and North Carolina state president of The Questers organization.
Lunch & Learn starts at 11:30 a.m. at the Chelsea Restaurant at 335 Middle Street in New Bern. Tickets are $16 for Historical Society members and $18 for non-members; lunch is included. Tickets must be purchased in advance by calling the New Bern Historical Society at 252-638-8558, or can be ordered on-line at www.NewBernHistorical.org. Lunch choices are: Pork Tenderloin with Cabernet Demi-glace served with garlic mashed potatoes and seasonal vegetable or Coral Shrimp Pasta. Dessert is included.
For more information, call the New Bern Historical Society at 252-638-8558.
Submitted by: Kathy Morrison, New Bern Historical Society