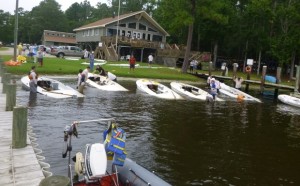 US Sailing, a sailing organization which was national sanctioning body of the local regatta, is giving the Arthur B Hanson Rescue Medal to a number of local people to honor their work in rescuing sailors and boats.
The US Sailing's Safety at Sea Committee has voted to award the rescue boats from the Flying Scot regatta the Arthur B Hanson Rescue Medal in recognition of your efforts following the storm. This is great recognition for those who were part of the race management along with the volunteers who saw the conditions and jumped in boats and came to help.
We're having an awards ceremony on January 9 at 5pm at Blackbeard Sailing Club in Fairfield Harbour following the winter series race.
Congratulations on receiving this prestigious medal! Award Winners:
Mauntauk 17 rescued 4 (Eddy Parker & Richard Schott)
Aquasport 19 rescued at least 5 (Ken Gurganus & Jeff Thomas)
Triumph 17 rescued 1 (Dave Brown, Polly Brown, & Joe Gormley)
Weather boat rescued 4 (Jim Zaradka & Mark Brennesholtz)
The Big Parker rescued 3 (Roger Brake & Eric Rasmussen)
17′ Key West rescued 4 (Skip Byrum & Gus)
Sea Hunt 235 rescued 2 (Malcolm Shaffer, Robin Shaffer, Charlie Marr)
Submitted by: Mike Afflerbach, NYRA Commodore