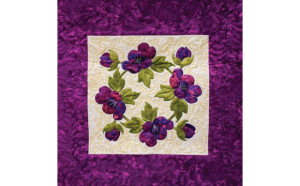 'Pins and Needles': A Twin Rivers Quilters Guild Exhibition" is a free quilt exhibit that will open to the public Saturday, Jan. 23. This ongoing exhibit will be displayed through Feb. 21 in Tryon Palace's Duffy Exhibition Gallery, located at the North Carolina History Center.
This free exhibit will feature a selection of quilts produced by the Twin Rivers Quilters Guild, including several works produced for charity. The exhibit will also include "Jewel of the Sea," a group quilting project by the guild that will be raffled off later this year. Tickets and details available in the Museum Store throughout the exhibit.
For more information call 252-639-3500 or visit www.tryonpalace.org.
Upcoming events at Tryon Palace include:
January 26: Behind-the-Scenes: Costume Shop
January 29: WinterFeast: Oysters, Brews, and Comfort Foods
February 2: Behind-the-Scenes: Costume Shop
February 6: Tryon Palace Free Day
Submitted by: Craig Ramey, Marketing and Communications Manager, Tryon Palace