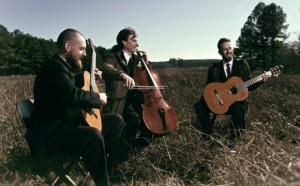 Unconventional, electrifying, contemporary, classical. This is the music of Revien – a nationally acclaimed contemporary chamber ensemble consisting of three members of the Georgia Guitar Quartet: Phil Snyder on cello, Kyle Dawkins on guitars and electronics, and Brian Smith on guitars and electronics. The Pamlico Musical Society is thrilled to present Revien at The Old Theater in Oriental on Saturday, February 20, 2016 at 7:30 pm.
The trio creates a compelling program for audiences by incorporating modern tech and enhancements on their instruments. You might hear guitars and cello used as percussion, or guitar strings fitted with found objects to sound more like a sitar.  Regularly featured on NPR's "Performance Today", the group's repertoire embraces classical music but draws from the energy of rock and pop music as well. If you didn't think you liked chamber music, Revien's imaginative approach could change your mind.
"In the world of music, for better or worse, we often like to put things in categories. These days, musical categories are more and more blurred around the edges, though. There are more and more musicians who simply ignore those labels, more power to them. They write and play whatever they want and let the critics and the music business sort it all out. Three members of the Georgia Guitar Quartet have a side project called Revien. Two guitars and cello. And they play…they play whatever they want to play. Bach, Debussy, Duke Ellington, Led Zeppelin, flamenco, bluegrass…"
Fred Child, "Performance Today" National Public Radio
Tickets to Revien's concert are $22 and are available at Nautical Wheelers, 411 Broad Street in Oriental or online at PamlicoMusic.org. For more information or to be added to the wait list, call 252-617-2125. Tickets for sold-out shows may become available at the door last minute. Check at the box office at 7:15.
For helping to make this concert possible, Pamlico Musical Society wishes to thank our season sponsor, Silos Restaurant of Oriental and our corporate sponsors, Four Paws Professional Grooming & Styling Spa of Bayboro and Axelson Chiropractic of Alliance.
Pamlico Musical Society is a non-profit organization bringing quality musical entertainment, enrichment, and education to Pamlico County, and we welcome your support! To learn more about the benefits of joining us, including advance ticket sales and artists' receptions, call 252-617-2125 or visit PamlicoMusic.org. The Old Theater is located at 609 Broad Street and is handicapped accessible.
Submitted by: Sue Duclos, Publicity Chairperson, Pamlico Musical Society