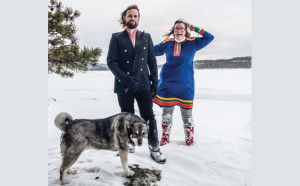 The Finnish folk duo Vellamo will perform at Trent River Coffee Company in New Bern, on Friday, January 22.
Comprised of Pia Leinonen and Joni Tiala, Vellamo performs traditional and original songs in Finnish, English, and Swedish. Their music is reminiscent of 1960's folk revival groups such as Richard and Mimi Farina; Peter, Paul, and Mary; and Pentangle – but with a Scandinavian twist!
Pia's hauntingly beautiful vocals are the voice of the duo. Pia has an extraordinary vocal range, from old British Isles ballads, to Finnish and Swedish traditional songs, and her own originals.
Joni Tiala is a gifted and versatile guitarist. He handles a wide range of idioms with ease, and provides the perfect accompaniment to Pia's voice.
Tickets are $10, available at the door. The doors open at 6:00 pm, and the show starts at 7:00.
For reservations or more information, call 252-514-2030.
For more information on Vellamo, check out their website.
Submitted by: Simon Spalding