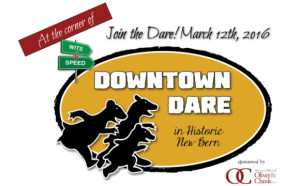 Solve clues, complete challenges and work together to discover New Bern's hidden gems . . .
A race like no other that combines both wits and speed – the Downtown Dare is coming to New Bern on March 12th to benefit The Epiphany School of Global Studies' Open Door Diversity Scholarship.
Teams of two, three or four will use their smart phones and their knowledge of New Bern to find the answers to clues while racing from checkpoint to checkpoint.
Join The Dare! Find out more and register your team here: DowntownDare-NewBern.com.
Submitted by: Rhonda Bernthal, Director of Advancement, The Epiphany School of Global Studies