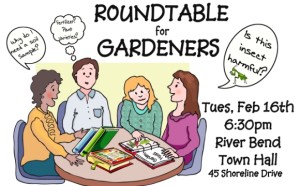 The River Bend Community Organic Garden and Education Center presents the second annual Roundtable for Gardeners on Tuesday, February 16, 2016 at 6:30 pm at River Bend Town Hall. Attendees are requested to bring gardening concerns, questions, and ideas to the forum. This roundtable will offer suggestions and options about specific growing problems and will present general information for raising vegetables in this region. Come to discuss your garden concerns, share ideas and give each other inspiration.
Local experts who will facilitate in finding solutions are Tim Minch, Grounds Coordinator at Lenoir County Community College and former Greenhouse Manager at Tryon Palace gardens who will answer questions and share tips gleaned from a lifetime of experience; Master Gardener Audrey Kress Williams, eleven year member of the Cropmaster's demonstration garden at the NC Cooperative Extension office and other local community gardens, who will offer knowledge gained from her extensive community garden experience; and Hadley Cheris, BS in Agricultural Science, Gardener and coordinator of the Heirloom Kitchen Garden at Tryon Palace who specializes in agroecology and is also a certified beekeeper.
Following the forum, refreshments will be served to demonstrate that healthy food can taste delicious.
RSVP recommended. Contact Dee Smith at 252-634-3192.
Submitted by: Connie Casey