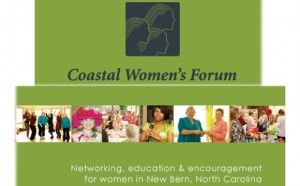 Coastal Women's Forum will hold its next Lunch Meeting from noon to 1pm on Wednesday, February 17 at the New Bern Golf and Country Club.
Registration will begin at 11:30am. The cost is $15.00 for members and $20.00 for guests. Pre-registration is required by noon on Monday, February 15. Check or cash payment will be accepted at the door.
This month, Darlene Brown, Executive Director of Partners in Education, will facilitate a lively Speed Networking event designed to encourage new business and/or social relationships.
Come prepared to speak for one minute about yourself, your business, or what you are looking for from your Coastal Women's Forum membership.
For more information, or to register, contact Lunch Coordinator, Sandy Eichelberger at 301-938-4836.
To learn more about what Coastal Women's Forum has to offer, or to register online, visit CoastalWomensForum.com.
Submitted by: Penny Zibula, Coastal Women's Forum