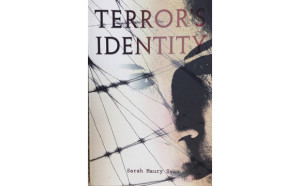 March 12, 2016 from 1:00 pm – 3:00 pm
Sarah Maury Swan's articles and letters have appeared in many magazines, newspaper and literary journals, and the first chapter of Terror's Identity was published in the 2014 Shoal, after placing first in the fiction category of the Carteret Writers contest.
Recent transplants to lovely New Bern, NC, Sarah and her handsome devil generally enjoy retirement by playing golf, kayaking, and giving house concerts featuring well known folk/blues singers. They do miss the horses and dogs they nurtured in Maryland, but Kilroy, the cat, gets as much attention as he wants. Their children come to visit when they can get away from work.
About "Terror's Identity":
Sixteen year old Aidan Knox's life turns upside down when he, his sister and his mother enter a witness protection program and begin a dangerous new life because of his father's work investigating a terrorist organization operating in the U.S.
How will he remember the details of his new life with a new name and a made up past? Whom can he trust and can he keep his mother and sister safe?
Terror's Identity will keep you urging Aidan to succeed and empathize with his having to make new friends in a new school and a new town.
Visit Fine Art at Baxters at 323 Pollock St., call 252-671-2724, or check out the website.
Submitted by: Fine Art at Baxters