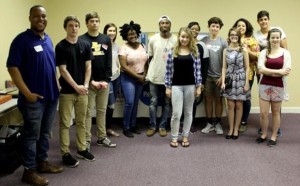 High school youth from Craven, Jones, Onslow and Pamlico counties joined Coastal Coalition for Substance Abuse Prevention (CCSAP) and YES! (Youth Empowered Solutions) on Saturday March 12, 2016 for the Youth Advocacy for Substance Abuse Prevention Training.
The training provided youth with scenarios, activities and opportunities on how to make the community a healthier place around issues related to preventing underage drinking and eliminating misuse of prescription drugs.
The youth advocacy training also allowed parents to become familiar with prevention as it relates to underage drinking and prescription misuse.
CCSAP is very excited about what is to come in the near future with the youth advocates and the new skills they learned.
For more information on CCSAP or CCSAP's prevention programs, or to volunteer visit CCSAP.org  or call 252-649-1615.
Submitted by: Tamika Gilchrist, Media Coordinator, Coastal Coalition for Substance Abuse Prevention