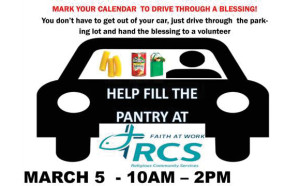 Saturday, March 5
10:00am – 2:00 pm
Circle the parking lot, hand the volunteers your blessing and drop much needed items for others in need.
You don't even have to get out your car, just circle the parking lot
Place:  The Living Word Worship Center, 1305 South Glenburnie Rd., New Bern
Items needed: dry goods, pasta, beefaroni, sphaghettios, ravioli, noodles, pasta sauce (no glass, please) Chef Boyardee or other brands, travel personal items are always welcome and monetary donations.  Made payable to RCS.
For more information, call Tharesa Lee at 252-349-6212 or visit The Living Word Worship Center.
Submitted by: Tharesa Lee