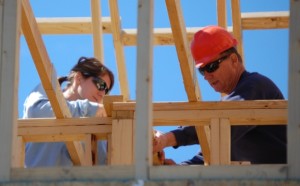 During the month of March, students from four different colleges will help Habitat for Humanity of Craven County build a home during their spring break as part of Habitat's Annual Collegiate Challenge program.  Over four weeks, a total of 53 students will volunteer to work on Home #61 in New Bern.
"We are always delighted and energized to have these young men and women work with us on a Habitat home and it is interesting to see how much they can get accomplished over the four week period," said Mark Beard, Habitat Craven's Executive Director.  The students will also have an opportunity to meet and work with the homeowner who has been selected for this home; each homeowner must commit to 250 or more sweat equity hours in the building of their own home.
Overnight accommodations are being provided by area churches and some meals are being hosted by individuals, churches, or civic organizations. "I have been so impressed with the gracious hospitality that is being extended to our visiting students by this community," said Deedra Durocher, Volunteer Coordinator. "We still have some openings for meals or hosted events we'd like to schedule for each of the groups, so hopefully those pieces will fall into place over the next week or so," she said.
Case Western Reserve University of Cleveland, OH will send 15 students to New Bern for their first year here from March 6 through 12; SUNY Plattsburgh is returning with 11 students for a second year for the week of March 13. During the week of March 20, 12 students from Drexel University return to New Bern for a third year; and 15 students from the University of Delaware will be here for their fourth year of volunteering.  Habitat for Humanity organizations across the US will host some 7,500 college and high school groups in 182 communities as part of the 2016 Habitat Collegiate Challenge.  This program is one of several established by Habitat for Humanity International to engage the next generation of leaders in Habitat's mission to eradicate substandard and poverty housing.  "The Collegiate Challenge exposes students from across the country with a common goal of helping people build a better life for themselves and their families," explained Beard. "Every individual will be involved in building this home, but also building a foundation for a family to have a brighter future. We're grateful to the commitment of these young men and women who are choosing to spend their spring break volunteering with Habitat Craven County," he said.
Habitat for Humanity of Craven County was established in 1989 as an affiliate of Habitat for Humanity International, a non-profit Christian housing ministry. Over the last 27 years, the local organization has built 60 homes in partnership with homeowners who are deemed eligible by the Selection Committee. When each home is completed, the homeowner is responsible to pay a no-interest mortgage and other expenses associated with owning their own home.
For additional information about Habitat Craven County, or to be involved with any of the visiting college groups, contact the Volunteer Coordinator at 252-633-9599.
Submitted by: Deedra Durocher, Volunteer Coordinator, Habitat for Humanity of Craven County