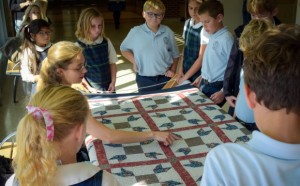 Children ages 6-10 can learn how staying warm during the cooler months wasn't always as easy as turning a dial during the Tryon's Explorers program Thursday, March 10, at 10 am inside the North Carolina History Center.
Children will explore how our ancestors kept warm during winter by exploring the Regional History Museum. Help us stitch our display quilt inside the North Carolina History Center and make your own craft campfire.
Tickets are $6 per child with one accompanying adult free and additional adults $6. Included with the price of a One Day Pass.
For more information call 252-639-3500 or visit TryonPalace.org.
Upcoming events at Tryon Palace include:
March 12: Garden Lecture Series – Gardening Recipes and Challenges,
March 15: Behind-the-Scenes: Winter in the Gardens
March 17: Up South: A Musical Lecture by Tami Tyree
March 18: Lunch and Learn – Dispelling Museum Myths  
Submitted by: Craig Ramey, Marketing and Communications, Manager, Tryon Palace