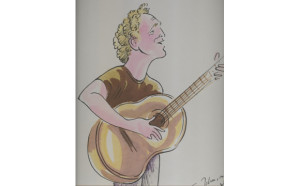 Back by popular demand! Held in the middle of the month, in the middle of the week, in the middle of the day – Midweek Music concerts are geared toward busy working professionals who may otherwise find it hard to squeeze art into their schedules. With this series, they can attend the performance and relax during their lunch-time break. Music lovers without a 9-to-5 may also choose to come to the day-time concert so they do not have to drive home after a late evening show.
On April 13, from noon to one, we are thrilled to have booked international singer-songwriter John Sprague. John has sung professionally for many years, from cities across Europe to his own club in Port Huron, Michigan. You may have seen him on TV during the "Down East Today" show, where he has sung songs from his CD, "Songs from the Heart."
The one-hour show is offered free to the public, with chairs available on a first-come, first-served basis. A strong supporter of the arts, John is generously donating his time and talent so the show can be offered free to the community (though all donations will be given to the artist).
For more information, visit The Bank of the Arts, 317 Middle St. or call 252-638-2577.
Submitted by: Beth Ellis, Marketing and Gallery Director, Craven Arts Council & Gallery, Inc.