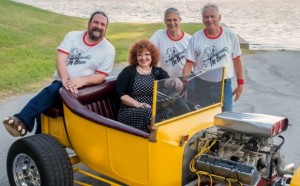 The Bears, New Bern's favorite oldies band, plays the County Opry in Grantsboro, Pamlico County, Saturday evening, May 14. The Bears' "way back machine" takes you on a roller-coaster ride through the best songs of the last sixty years, featuring Classic Rock, Surf Music, British Invasion, and more, served up with humor, hot licks, and a great sense of fun.
Who are The Bears?
– Steve Latimer is "Baby Bear", the band's youngest member. Steve sings and plays guitar.
– Janet Montero is "Mama Bear": she sings and plays bass.
– Pat Engeman, "Yogi Bear" is the drummer, as well as a singer.
– Simon Spalding is "California Bear": he plays bass, fiddle, and guitar.
The music starts at 6:30pm and will finish around 9:30pm. The County Opry is located on Highway 55, about one mile west of the Grantsboro stoplight. Admission is $10 per person. Audience members are permitted to bring their own beer and wine. To learn more about The Bears, check out TheBears.Band. For more information, contact Pat Engeman at 678-205-7309.
The Bears are one of eastern North Carolina's most entertaining bands – don't miss this Pamlico County appearance!
Submitted by: Simon Spalding