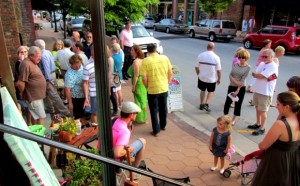 Community Artist Will is pleased to announce the following artists will be participating in this Friday evening's ArtCrawl. Lisa Bisbee Lentz and Carol Jones will be giving painting demonstrations at the Greater Good Gallery at 228 Craven St. Jon Derby will be inside as well with digital imagery, and Sandy Toler of Wonderlust Photography will be outside the gallery with her photos.
Local painter Chris Wagner will be in his studio above Fine Arts at Baxters, 323 Pollock St. Laura Gammons will have a "studio clearance" table set up in Artisan Square with a number of discounted paintings. Behind the Community Artist Will (CAW) Center for the Arts, 415 Broad St., you can find local photographer Elisa Schulman as well a number of other local artists that have their work in the CAW gallery.
Inside the gallery, you can find the artist studios of Eileen Wroe, Elaine Meyer, Sandy Bruno, Susan Cheatham, Karen Rawson, Deedee Mayer and several other local talents.
CAW will also people on hand able to accept applications for a number of classes that we are hosting this summer, please stop in and inquire! Classes will include pottery, painting, and jewelry, with times available for all ages and skill levels.
Any questions may be answered ahead of time by calling 252-571-8566, emailing communityartistwill@gmail.com, or by stopping into our arts center at 415 Broad Street in downtown New Bern.
Submitted by: Community Artist Will