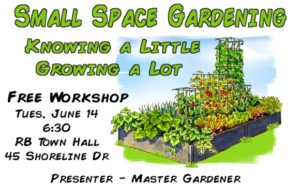 The River Bend Community Organic Garden and Education Center announces its free June workshop, Small Space Gardening – Knowing a Little, Growing a Lot.
Presenter Jennifer Knight, owner of Knightscapes Enterprises, Inc. and past President of the Craven County Master Gardener Volunteer Association, is well-known for her service to the gardening community. As owner of Knightscapes and also a small property, she knows how to obtain maximum benefit from a small growing area.
Attendees will hear ideas and tips for turning a small area into a thriving and productive green space. The presentation will cover, in part, right plant, right place…again; the conservation connection and an eco-healthy landscape. The session is scheduled for Tuesday, June 14th at 6:30 pm at River Bend Town Hall, 45 Shoreline Drive.
This workshop is recognized for continuing education credit for master gardeners.
Following the workshop, a tasty and healthful selection of refreshments will be served. Healthy food can be delicious.
Recent workshops have been filled to capacity. Reservations are strongly recommended. Contact Dee Smith at 252-634-3192 to reserve a space.
Submitted by Constance Casey, River Bend Community Organic Garden and Education Center