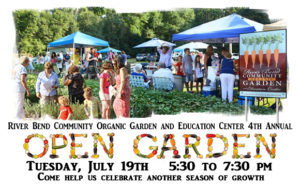 The River Bend Community Organic Garden (RBCOG) invites River Bend residents, Master Gardeners, and community friends and neighbors to join them as they observe another season of growth at their fourth annual Open Garden on Tuesday, July 19, 2016 from 5:30 – 7:30pm.
Visitors are invited to see how a community garden operates. Returning guests will be able to observe changes in the garden – things are different every season! Garden volunteers will offer tours and information.  Families are welcome.
Raffle tickets are available for a basket filled with goodies from the garden: fresh picked organic vegetables, homemade breads, muffins, preserves and more. Tables of refreshments will offer samples and showcase dishes made from garden produce.
RBCOG is located on Wakefield Drive in River Bend. Directions for guests arriving from outside of River Bend: from Highway 17, turn onto Pirates Road (turn at the Shell station). At the first street (Wakefield), turn right. The garden is at the end of the cul-de-sac. You will be directed where to park by members of Community Watch.
For more information, contact Dee Smith at 252-634-3192 or Margaret Theis at 252-474-3630. RSVPs are encouraged.
Submitted by: Constance Casey, River Bend Community Organic Garden