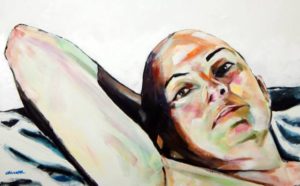 Exhibition of seven area artists explores concepts of identity, social constructs
Bank of the Arts, 317 Middle St., New Bern
July 5th to August 27th, 2016
This July and August Craven Arts Council and Gallery presents "Points of View: Opinions" in the Main Gallery at Bank of the Arts in Downtown New Bern. This exhibition by seven Eastern North Carolina artists explores concepts of identity, gender, and the role of government. The exhibition will be open July 5th thru August 27th, with receptions on July 8th and August 12th from 5 to 8pm during the New Bern Artwalk.
The show will feature the work of Kiki Farish, Geevee Meyer, Elizabeth Spencer, Chris Wagner, Catherine Connolly, Chris Morgan, and Vik Sexton, working in a variety of styles and media. Each artist has been given the opportunity to choose their central concept or theme relating to the idea of identity and dialogue.  The goal of the show is to promote healthy discussion on the topics raised, including gender roles, isolation, body image, government power, and mortality. The artists' works serve to stimulate sustained dialogue around these issues and inspire others to find their creative voice.  Through art and discourse, people broaden and develop their own perspectives. This reflection and exploration can lead to a more active citizenship as people transform the way they see themselves in relation to their community and their world. To foster this dialogue the show will feature a statement by each artist on their work, and QR codes that will connect to a digital forum to allow discussion to occur throughout the length of the show.
All seven artists have ties to New Bern and eastern North Carolina. Kiki Farish is an accomplished artist teaching at East Carolina University and former juror of the Twin Rivers Artist Association Show at Bank of the Arts. Chris Morgan lives in New Bern and received her BFA in Sculpture from ECU, where she is currently working on her MFA. Chris Wagner and Geevee Meyers both reside in New Bern and have studios at Baxter's Gallery. Vik Sexton works and lives in Greenville, and has participated in past Juried Shows here at Bank of the Arts. Catherine Connolly is the winner of the 2015 Bank of the Arts Juried Show.
For more information contact Jonathan Burger, Marketing and Gallery Director, Craven Arts Council & Gallery, Inc. at the Bank of the Arts, 252-638-2577.
Submitted by: Jonathan Burger, Craven Arts Council & Gallery