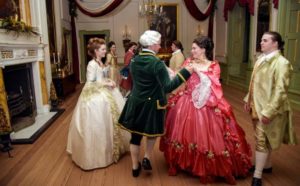 Tryon Palace will host auditions for parts in Candlelight: A Colonial Christmas Celebration Saturday, Aug. 6, from 1 – 3pm in the Waystation Auditorium.
Available roles are for men and women ages 18 and older in both speaking and nonspeaking roles, as well as individuals who are willing to perform as 18th-century dancers and soldiers.
Speaking roles are for scenes in the 18th, 19th and 20th centuries. No prepared monologues. Those auditioning for speaking roles will perform a cold reading. During Candlelight some characters are placed inside buildings and some characters are outside.
Tryon Palace's 36th annual Christmas Candlelight Celebration is scheduled for Saturdays, Dec. 10 and 17 and occurs rain or shine. Those auditioning should plan on performing at both dates if selected.
For more information call 252-639-3524 or visit www.TryonPalace.org/Candlelight.
Upcoming events at Tryon Palace include:
August 9: Jonkonnu Performance
August 9: Behind-the-Scenes Tour: Conservation Lab
August 13-14: Civil War Living History Weekend
August 19: Lunch and Learn: Meet the Martins
Submitted by: Craig Ramey, Marketing and Communications Manager, Tryon Palace