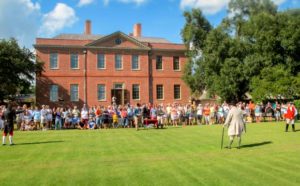 The scene of the last legal duel in North Carolina will be reenacted on the Tryon Palace South Lawn, Saturday, Sept. 3, at 4 p.m. as political foes John Stanly, Jr. and Richard Dobbs Spaight bring their dispute to a dramatic conclusion.
More than two centuries ago, on Sept. 5, 1802, Stanly, a prominent New Bern lawyer, and Spaight, a former North Carolina Governor, met for a lethal duel on the streets of New Bern. Spaight was mortally wounded after four rounds and Stanly was forced to flee the city. Stanly was eventually able to return to New Bern when his friend, Judge William Gaston, convinced the governor to grant North Carolina's first gubernatorial pardon to Stanly.
Visitors are invited to watch the drama unfold. In the event of rain, performances will be moved into the North Carolina History Center's Cullman Performance Hall.
Admission to the Stanly-Spaight Duel is $6 for adults, $3 for students and includes admission to Tryon Palace gardens. A One Day Pass to Tryon Palace includes the duel at no additional cost, as well as admission to the Stanly House and the Regional History Museum, which includes a portrait of the man who helped Stanly get his pardon, Judge Gaston.
Visitors can also learn about the life of Richard Dobbs Spaight in Tryon Palace's new free exhibit, "Richard Dobbs Spaight: Legacy of a North Carolina Founding Father," in the Duffy Exhibition Gallery at the North Carolina History Center. The life and work of North Carolina's first native-born governor and a signer of the U.S. Constitution, Richard Dobbs Spaight, will be on display in the form of a variety of letters, images and objects in this exhibit. This exhibit will be open Aug. 27 through Jan. 8, 2017.
For more information call 252-639-3500 or visit TryonPalace.org.
Upcoming events at Tryon Palace include:
Sept. 6: Behind-the-Scenes Tour: Costume Shop
Sept. 8: Tryon's Explorers: School Days
Sept. 15: Racial Indoctrination: The Mechanisms of Slave Control in North Carolina
Sept. 17: Lanterns on the Lawn: A Family Campout at Tryon Palace
Submitted by: Craig Ramey, Director of Public Affairs