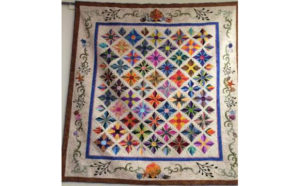 Quilters from Craven, Pamlico and Carteret counties that will have their work on display at the 2016 "Bee by The River" Quilt show to be held at the Riverfront Convention Center on October 21st and 22nd.  Come view over 250 quilts which display the wide variety of talented quilters in our guild.  In addition to the judged quilts, enjoy a display of old and new red and white quilts, as well as the red and white challenge quilts our members have created.  There will also be a special display of quilts made by one of our favorite founding members, Helen Williams.
Our vendor hall will have a wonderful selection of fabrics, books, patterns and quilting tools available.  In addition to the vendors, check out the guild boutique booth to find your favorite quilter a unique Christmas gift, the quilts for sale area and our ever popular Twice Around Treasurers booth where you may find that piece of fabric you need to complete a "UFO".
An "It's in the Bag" raffle will be held for a number of beautiful bags created by our members, and the raffle quilt "Jewels of the Sea" drawing will occur during the last hour of the show.  The winner does not need to be present to win this gorgeous batik inspired quilt.
In addition to the show, stop by our demonstration area to talk with our members about the items they are working on.  Our members are very active in making quilts for a variety of community organizations from nursing homes, to infant quilts, to quilts for our military members being air evacuated back to the states from the Middle East or who reside at our local Veterans Home.
Hours for the quilt show are 9 a.m. to 5 p.m. each day, admission is $7.00.  As mentioned above the show is being held at the New Bern Riverfront convention center located at the corner of South and East Front streets.
The Twin Rivers Quilters Guild is a nonprofit organization dedicated to the art of quilting.  The Guild was established in 1983, becoming a chapter of the National Quilting Association in 1990.  Our work is designed to benefit and educate all persons interested in preserving, continuing, and advancing the art.  We meet this goal by mentoring new quilters, offering workshops and instruction on quilting techniques with professional quilters, and by sponsoring various exhibits, including a biennial quilt show. Our business meeting is held at 10 a.m. on the second Thursday each month at Tabernacle Baptist Church, 616 Broad St.  Check out our website: TwinRiversQuiltersGuild.com for more information.
Submitted by: Roberta Gould, Publicity, Twin Rivers Quilters Guild