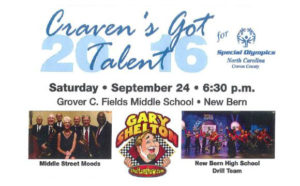 Grover C. Fields Middle School
Show Starts at 6:30 pm
Craven's Got Talent is the fundraiser for the Local Special Olympics Craven County.   Special Olympics Craven County offers sporting events and competitions for over 350 athletes locally.  Currently, we are offering Bocce, Bowling, Aquatics, Cheerleading, Volleyball, and Track and Field.
Craven's Got Talent will host the Middle Street Moods, Magician Gary Shelton, The New Bern High School Drill Team, Wilson Family Band, David Pheffercom, Tom and Dahlin, Rivertowne Players, Down East Dance Studio, and Craig Cooper for this year's talent show.
Tickets are available for purchase at the following locations; Mitchells Hardware, The UPS Store, Harris Teeter in New Bern, Fullers Music, and the Craven County Recreation Department. All proceeds will stay in Craven County for our local athletes.
For more information please call Steven Aster at 252-636-6606.
Submitted by: Steven Aster, Craven County Special Olympics