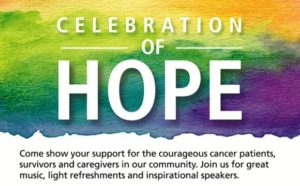 Recognizing Cancer Patients, Survivors and Caregivers
New Bern Get Your Pink On (NBGYPO) today announced plans for a Celebration of Hope event to be held in downtown New Bern at the Issac Taylor Garden on September 29th at 5:30pm.  The event will honor cancer patients, survivors and caregivers with live music, guest speakers and a candlelight ceremony.
The event will also include a poster-sized rainbow chart showing colored ribbons representing different cancer awareness efforts.  Guests will be invited to "Wear Their Color" to visually represent the array of cancers affecting millions of Americans every day.
"We want to this to be a joyful celebration of all those battling and beating cancer, as well as those irreplaceable caregivers that provide love, compassion and support year round," said Thea Kincaid, X of NPGYPO. "This event shows that together we are stronger in the war against cancer."
NBGYPO will also announce plans at the The Celebration of Hope for an exciting upcoming Spring event tentatively scheduled for March 31st, 2017.
The event is free to the public and will include light refreshments.  There will be an opportunity to donate, but it is not required.  The Issac Taylor Garden is located at 228 Craven Street in downtown New Bern.  For more information on the event or to learn more about NBGYPO, please visit NewBernGetYourPinkOn.com.
Submitted by: Jennifer Bertling, New Bern Get Your Pink On