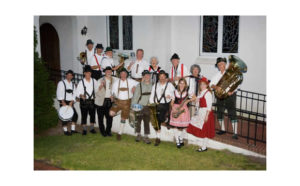 The New Bern Breakfast Rotary Club (NBBRC) will hold its sixth annual Oktoberfest fundraiser on Saturday, October 15th from 6:00 PM to 10:00 PM, at the New Bern Riverfront Convention Center. Entertainment will be provided by the award winning Harbour Towne Fest Band, a full size Oktoberfest ensemble for dancing and enjoyment.  Attendees also will have the opportunity to compete for bragging rights in the traditional Oktoberfest "Masskrugstemmen," a contest of strength and determination.  This voluntary competition was added last year and provided another form of entertainment for many.
Octoberfest proceeds go to support the purchase of more than 300 pairs of shoes for needy Craven County elementary school students each year. "Kicks for Kids is a unique program that enlists the cooperation of local School counselors to identify the youngsters most in need," explained NBBRC President, Deedra Durocher. "These children then have the opportunity to select and be properly fitted with a brand new pair of sturdy shoes at the Athletes' Foot in New Bern. You can't imagine the difference a new pair of shoes makes until you see the eyes of the child when they receive them," said Durocher.  This is the New Bern Breakfast Rotary's primary local charity project of the year.
Adult tickets for Oktoberfest are $15.00 in advance, and $20.00 at the door.  The entrance fee includes a traditional Oktoberfest plate (bratwurst, roll, German potato salad and sauerkraut), as well as iced tea and water. Other beverages (including beer and wine) and desserts are available for an additional fee. Children's admission is $5 for ages 6-12, and includes a hot dog, chips, and drink. Kids 5 and under are free. Active duty military personnel may buy tickets at the door at the advance ticket price.
Adult and children's Octoberfest tickets, as well as beer, wine, soft drink and dessert tickets are available online at NewBernRotary.org.  Adult tickets may also be purchased in advance until Thursday, October 13th at Mitchell's Hardware and The Athlete's Foot in the Walmart Shopping Center.
Oktoberfest is generously supported by the following sponsors:
B/S/H
WRNS, Your Country 95.1
WITN, East Carolina's Breaking News and Weather Authority
The New Bern Sun Journal
Submitted by: Harrison Marks, New Bern Breakfast Rotary Club