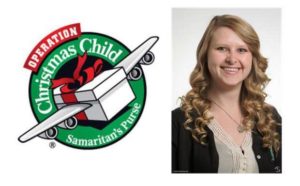 October 20 – 23
Public Venues – Please join us!
Elena Hagemeier was born into a broken, abusive home in Russia. Her parents were alcoholics and often left her and her sister without food. When Elena was 8yrs old, she and her sister were placed into an orphanage where nothing was their own. Everyone shared everything. When she was at her lowest point, feeling unloved and worthless, she received an Operation Christmas Child shoebox. This was the first gift Elena ever received.
While she thoroughly enjoyed the shoebox, what she cherished the most was the booklet that was offered to her with the shoebox – "The Greatest Gift" that tells the story of Jesus and how He came to this earth to die for our sins. She thought this booklet was a fairytale because it told her that the Creator of the universe chose to love someone like her. Elena finally had hope as she began to pray to this Creator. She prayed for a family and in 2004, Elena and her sister were adopted into a loving family in the United States.
Elena now attends Ozark Christian College and hopes to be a missionary in Asia one day. She believes that the shoebox she received in Russia allowed her to be adopted, not only in to an earthly family, but also into her heavenly family in Jesus Christ.
Thursday, October 20th
The Talk Station Coastal Daybreak with Ben Ball 8:15 on 107.1FM. Contact Stephanie Seymore 252-349-8261.
Meet & Greets from 2:00 to 4:00 in New Bern
Refreshing Lives Church at 6:30, 212 Kale Rd., New Bern. Contact Diane Adams at 252-634-3004
Friday, October 21
Epiphany Chapel, New Bern at 8:15
Open to the public
Saturday, October 22
First Baptist in Richlands 5:00 p.m., 100 Rand St. Contact Linda Worrell at 910-340-1768 or John Worrell 252-717-8587.
New River Baptist Association in Jacksonville, 2734 Commerce Rd. 7:00pm. Contact Becky Hoffman at 910-347-3146.
Sunday, October 23
St. Paul Lutheran in Havelock at 8:15 (30 min), 305 US-70, 252-447-3826.
Garber Methodist Church Family Life Center, 4201 Country Club Road, New Bern at 9:15. Contact Mary Coleman.
Tabernacle Baptist, New Bern morning service at 10:30, 616 Broad St. New Bern Contact Stephanie Seymore 252-349-8261.
Glad Tidings Packing Party Church, 4621 Country Club Rd., Morehead City at 6:00pm. Help pack some shoeboxes and hear Elena speak.
Submitted by: Stephanie Seymore, Operation Christmas Child